Denver DUI & DWI Lawyer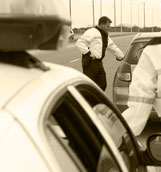 People who have been arrested for driving under the influence (DUI) or driving while impaired (DWI) still have rights. Don't let an overzealous prosecutor bully you into pleading guilty for drunk driving and cause license suspension, time in jail and other consequences. You are entitled to aggressive representation in both cases that result from a DUI: The criminal case and your DMV hearing.
I am Denver DUI attorney Christopher T. Braddock, and I have been defending DUI and DWI clients before the DMV and criminal courts for more than 20 years. I can help you defeat your charges or reduce the consequences.
Talk to me before you speak to anyone else about your DWI or DUI charges. Call my law office at 303-675-0100 or contact me online.
If You Are Pulled Over for Drunk Driving
Police officers are not above making mistakes. They cannot arrest you for driving under the influence (DUI) or driving while impaired (DWI; also known as driving while ability impaired – DWAI) unless they have probable cause.
To obtain the requisite probable cause, the police officer may ask you to perform roadside tests and/or submit to a portable breath test.
You should refuse to perform these tests. If the police officer has probable cause that you were driving drunk, you will be arrested and asked to submit to a chemical test such as a breath, blood or urine test. Evidence from these chemical tests will be used against you.
Defenses to Colorado DUI and DWI (DWAI)
There are defenses to drunk driving charges. I will thoroughly investigate your case to determine whether we can raise any of the following in your defense:
The officers did not have probable cause to arrest you
The Breathalyzer test was faulty
There were problems with the field sobriety test
Your stop was not justified
Charged for Refusing the Chemical Test?
In Colorado, if you refuse to submit to chemical testing, you will lose your license for one year. At my criminal defense law office, I will do what I can to get that reduced to a shorter suspension or secure a provisional or red license for you.
Facing DUI or DWI Charges? Call 303-675-0100 Now
If you have been arrested or charged with DUI or DWI, it is imperative that you call me immediately. For more information or to schedule a free and confidential appointment, please contact me.
I also represent individuals accused of driving with a suspended or revoked license.